Icelandic roads: A comprehensive guide for driving in Iceland
Introduction
Welcome to Iceland: A driver's paradise
Iceland is a land of natural wonders, boasting some of the most stunning landscapes on earth. Its roads are a gateway to the country's glaciers, volcanoes, waterfalls, and hot springs. Driving is the perfect way to experience the country's unique beauty at your own pace. In this article, we'll explore why Iceland is an ideal destination for driving enthusiasts, and offer practical tips for a safe and enjoyable road trip.
Why Iceland is a great place to drive
Iceland is a sparsely populated country with only 360,000 inhabitants. Its roads are relatively empty, which means you can enjoy the natural surroundings without being bothered by crowds. Moreover, Iceland's roads offer breathtaking views, with scenery ranging from dramatic mountains to lava fields and black sand beaches.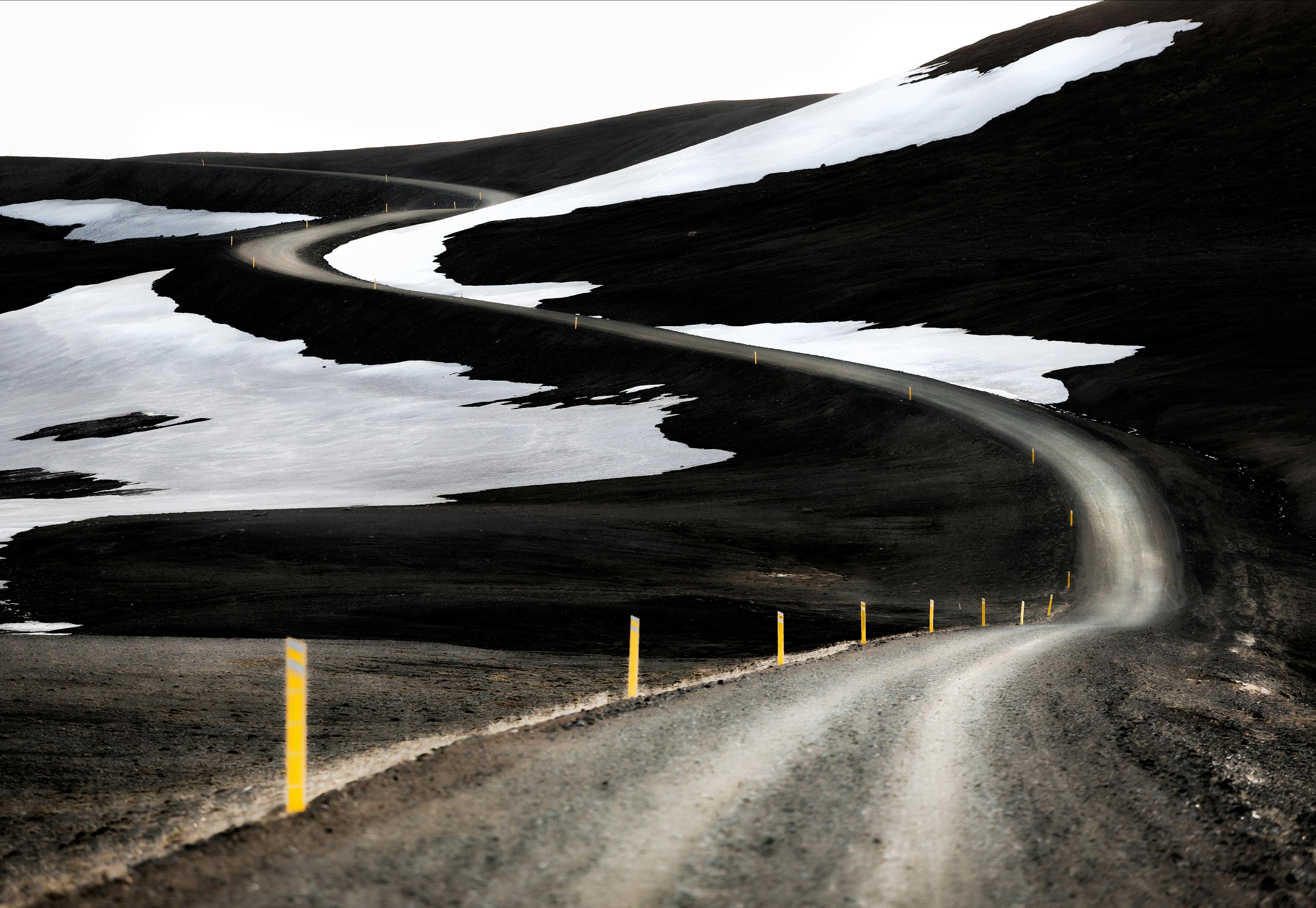 Winter road through black sand, surrounded by snow-covered mountains and rugged landscape.
Preparing for Your Trip
When to go and how to plan your trip
The best time to visit Iceland is from June to August when the weather is mild and the days are long. However, this is also the busiest time of the year, so it's important to plan your trip well in advance. If you're looking for a more secluded experience, you might consider visiting Iceland during the shoulder season (May, September, and October).
Car rental options and insurance coverage
Renting a car is the most convenient way to explore Iceland. When renting a car, make sure to check what insurance coverage is included. The Collision Damage Waiver (CDW) and Theft Protection (TP) is included in the rental rate as standard with Thrifty.is, but additional coverage might be necessary depending on your needs.
Packing for Iceland: What to bring for your road trip
Iceland's weather is unpredictable, so it's essential to pack appropriately. Layers are key, as temperatures can vary greatly throughout the day. Waterproof and windproof clothing is also recommended, as Iceland's weather can be quite windy and rainy. Other essential items include a good pair of hiking boots, a backpack, and a camera to capture the stunning landscapes.
Rules of the road: Icelandic driving regulations
Before hitting the road, make sure to familiarize yourself with Iceland's driving regulations. The speed limit on Iceland's highways is 90 km/h, while the limit on gravel roads is 80 km/h. It's mandatory to wear seat belts, and headlights must be turned on at all times, even during the day. Additionally, driving off-road is strictly prohibited in Iceland.
Navigating Iceland's Roads
Types of roads in Iceland: From highways to gravel roads
Iceland's roads vary greatly, from well-maintained highways to narrow gravel roads. The country's main highway, Route 1, also known as the Ring Road, circles the entire island and is mostly paved. However, smaller roads can be more challenging to navigate, with narrow lanes, sharp turns, and steep inclines.
Understanding Icelandic road signs
Icelandic road signs can be confusing for foreign drivers. Familiarize yourself with the most common road signs before your trip to avoid any surprises. It's also important to note that many roads in Iceland have one lane, so it's important to yield to oncoming traffic when necessary.
Tips for driving in Iceland's extreme weather conditions
Iceland's weather can be unpredictable, with rain, snow, and high winds all possible in a single day. To stay safe while driving in Iceland, it's important to check the weather forecast regularly and the road conditions to adjust your plans accordingly. Also, be prepared for sudden changes in weather conditions, including strong gusts of wind, snowdrifts, and icy roads.
Driving the Ring Road
Overview of Iceland's Ring Road
Iceland 's Ring Road is a 1,332 km (828 mi) long highway that circles the entire island, offering breathtaking views of the country's natural wonders. The route is mostly paved and well-maintained, but some sections are still unpaved gravel roads. Driving the Ring Road is a popular way to experience the best of Iceland's scenery in a single trip.
Highlights of the Ring Road: From Reykjavik to Akureyri
Driving the Ring Road offers a unique opportunity to explore Iceland's diverse landscapes, from the capital city of Reykjavik to the northern town of Akureyri. Along the way, you'll pass by countless natural wonders, including the Golden Circle, Jökulsárlón Glacier Lagoon, and the northern lights.
Recommended stops along the Ring Road: Waterfalls, glaciers, and more
There are plenty of must-see stops along the Ring Road, including some of Iceland's most iconic attractions. Gullfoss waterfall, Seljalandsfoss waterfall, and Skógafoss waterfall are just a few examples of the natural beauty you'll encounter on your journey. Other popular stops include Vatnajökull Glacier National Park, the Skaftafell Nature Reserve, and the famous Blue Lagoon.
Exploring Iceland's Hidden Gems
Self-driving tours in Iceland: Pros and cons
Embarking on a self-driven adventure through the enchanting landscapes of Iceland has become a favored choice for intrepid travelers seeking to unveil the country's hidden treasures. The allure lies in the freedom to craft a personal itinerary and savor the journey at your own leisurely rhythm. Yet, as with any pursuit, there exist a few aspects worthy of contemplation. These include navigating uncharted terrains and grappling with unpredictable weather patterns.
Recommended routes for exploring Iceland's hidden gems
There are countless hidden gems to discover in Iceland, from remote hot springs to picturesque fishing villages. Some popular routes include the Westfjords, the Snæfellsnes Peninsula, and the Reykjanes Peninsula. These routes offer stunning views of Iceland's landscapes and opportunities to experience local culture and cuisine.
Planning your route: Tips for maximizing your time and experience
Planning your route is essential for making the most of your time in Iceland. Consider factors such as the time of year, the length of your trip, and your budget when creating your itinerary. It's also important to prioritize your must-see attractions and allow for some flexibility in case of unexpected changes to your plans.
Staying Safe on Iceland's Roads
Emergency services and roadside assistance in Iceland
In case of emergencies, it's important to know how to contact emergency services and roadside assistance in Iceland. The Icelandic Emergency Number is 112, which can be used for all types of emergencies. Additionally, Thrifty Car Rental offers road side assistance services.
Preparing for emergencies: What to do in case of accidents or breakdowns
Accidents and breakdowns can happen on Iceland's roads, so it's essential to know what to do in case of an emergency. Stay calm and assess the situation before contacting emergency services or Thrifty Car Rental. Be prepared with warm clothing, food, and water in case you need to wait for assistance.
Safety tips for driving in Iceland: From avoiding wildlife to navigating narrow roads
Driving in Iceland can present some unique challenges, from unpredictable weather conditions to narrow and winding roads. To stay safe on Iceland's roads, it's important to follow the rules of the road, pay attention to road signs, and be prepared for sudden changes in weather. Additionally, it's important to watch out for wildlife on the roads, especially during the summer months.
Stay Informed and Safe with SafeTravel.is
SafeTravel.is is the official website for travel information in Iceland. It provides essential information about road conditions, weather updates, safety guidelines, and emergency contact numbers. It is recommended to check this website regularly for updates during your trip. Link to SafeTravel.is
Conclusion
Wrapping up your Iceland road trip
Driving in Iceland is an unforgettable experience, offering unparalleled views of the country's natural wonders. With a little preparation and caution, you can safely explore Iceland's diverse landscapes and hidden gems. Whether you choose to drive the entire Ring Road or just a portion of it, you're sure to encounter breathtaking scenery and unique experiences. From the glacier lagoons of Jökulsárlón to the geothermal hot springs of the Blue Lagoon, Iceland has something for everyone. So start planning your road trip today and get ready to discover the magic of Iceland from behind the wheel.