Welcome to Thrifty Car Rental in Reykjavik!
Welcome to Thrifty Car Rental in Reykjavik! We offer top-quality rental cars at affordable prices, making it easy for you to explore all that the beautiful city of Reykjavik has to offer. Located in the heart of the city, our rental car agency is conveniently located and easy to access. Simply visit our website at Thrifty.is to book your rental car today.
Wide Selection of Rental Cars
At Thrifty, we have a wide selection of vehicles to choose from. Whether you need a compact car for a solo trip or a spacious SUV or a 9 seater minibus for a family vacation, we have a rental car to suit your needs. We also offer additional services such as Mobile Wi-Fi device and car seats for families traveling with young children.
Excellent Customer Service
When you rent a car from us, you can expect top-notch customer service and support. Our team is dedicated to ensuring that your rental experience is smooth and hassle-free. We'll help you choose the right car for your needs, answer any questions you may have, and provide you with all the necessary information to make your trip a success.
Insurance Options Available
In addition to our great selection of rental cars and excellent customer service, we also offer a Premium Insurance option to protect you and your rental car during your trip. With our competitive rates and commitment to customer satisfaction, we're the perfect choice for all your car rental needs in Reykjavik.
Book Your Reykjavik Car Rental Today
Need a car rental in Reykjavik? Thrifty offers quality rentals at low prices, flexibility, and convenience. Book your rental today and start exploring Iceland. At Thrifty, we understand that our customers value affordable and responsible travel options. That's why we offer a wide selection of quality rental cars to fit your budget and needs. And with our convenient location near the airport and commitment to safety, you can trust that your rental experience with us will be smooth and stress-free. We also offer the Thrifty Clean Guarantee, ensuring that your rental is thoroughly cleaned and disinfected for your safety. And with our quick service and fast response times, we make it easy to book and modify reservations to fit your schedule.
Out of Hours Return Option
Need to return your rental car after business hours? No problem! At Thrifty, we offer an easy and convenient out-of-hours return option at our Reykjavik City office. Simply park your car outside the office and drop the keys in the designated box on the left side of the door. If you need transportation, the bus station is conveniently located near our office (www.bus.is) or you can call a taxi. With this convenient option, you can return your rental car on your own schedule without the need to worry about making it back during business hours.
Book with Thrifty for a hassle-free car rental experience in Reykjavik. So why wait? Visit Thrifty.is today and book your Reykjavik car rental. We look forward to helping you explore all that this beautiful city has to offer!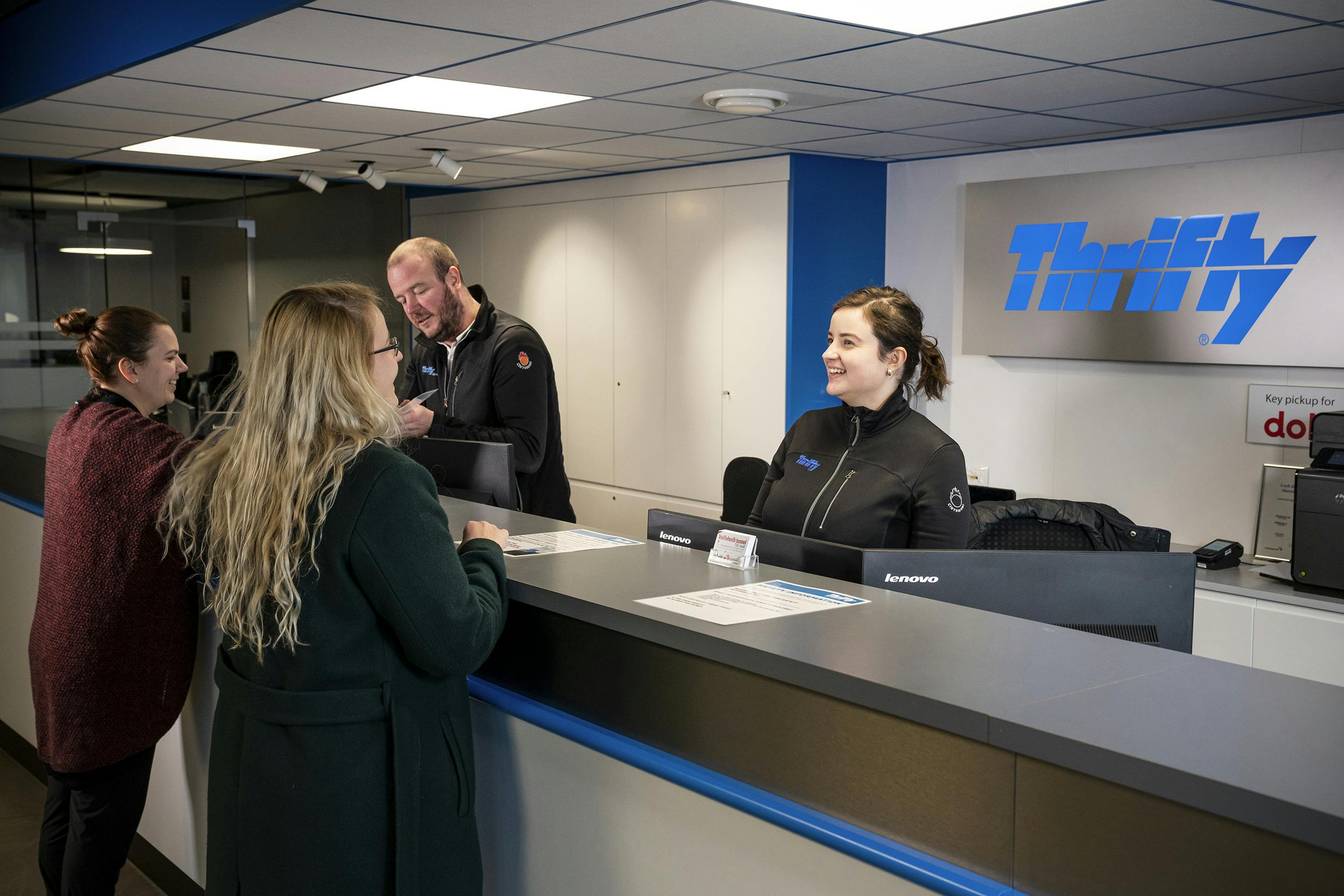 Thrifty Reykjavik Car Rental - Wide Range of Quality Cars at Low All-Inclusive Rates
Opening hours
Summer opening hours: 1 May - 30 Sept
| | |
| --- | --- |
| Monday | 08:00-17:00 |
| Tuesday | 08:00-17:00 |
| Wednesday | 08:00-17:00 |
| Thursday | 08:00-17:00 |
| Friday | 08:00-17:00 |
| Saturday | 08:00-17:00 |
| Sunday | 08:00-17:00 |
Winter opening hours: 1 October - 30 April
| | |
| --- | --- |
| Monday | 10:00-17:00 |
| Tuesday | 10:00-17:00 |
| Wednesday | 10:00-17:00 |
| Thursday | 10:00-17:00 |
| Friday | 10:00-17:00 |
| Saturday | 10:00-15:00 |
| Sunday | 10:00-15:00 |
Holiday opening hours
| | |
| --- | --- |
| December 24, 2023 | 10:00-12:00 |
| December 25, 2023 | Closed |
| December 26, 2023 | 10:00-14:00 |
| December 31, 2023 | 10:00-12:00 |
Address
Bíldshöfði 8, Reykjavík